Attorneys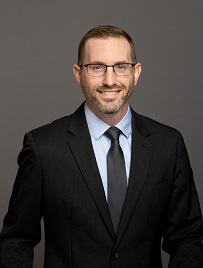 Tyler Gaastra
Grand Rapids, Michigan
Senior Associate, since 2021
phone (616) 454-3883
fax (616) 454-3988
email Email Me
Tyler Gaastra recently joined the firm as our senior associate. Tyler comes to the firm after spending eight years as in-house counsel for Tekton, Inc., a leading hand tool company.
Tyler graduated magna cum laude from Michigan State University College of Law in 2011. While in law school, he was a member of the Michigan State Law Review, and he completed internships with the legal department of Auto-Owners Insurance and the Kent County Prosecutor's Office. He earned his bachelor's degree from North Park University in Chicago, Illinois, also graduating magna cum laude. Tyler serves on an advisory board for the North Park University College of Arts and Sciences.
He and his wife, Marylynn, live in Grand Rapids and are founding members of their church, Reformation OPC, where they serve in various capacities. Tyler and Marylynn share an interest in history, resulting in regular visits to museums, antique stores, civil war battlefields, obscure historical markers, and the like. They also enjoy hanging around Riverside Park on Food Truck Fridays.